5XFZ-25S Air-screen Cleaner with Gravity Separator
Product Detail
Production Case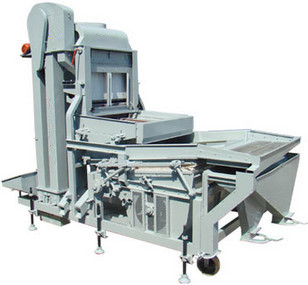 5XFZ -25S Air Screen Cleaner is developed on the basis of 5XFZ-25. It has gravity separator ( with front semi-sieve).We install the semi-sieve in front of the Gravity Table to remove the small impurity from the material after the wind selection, which can reduce the workload of the Gravity Table and protect the Gravity Table from being blocked.

5XFZ-25S air screen cleaner can remove all the dust, bran shell, blighted seeds, budding seeds, damaged seeds (by insects), moldy grain, straw etc from commodity grain and seeds.
5XFZ-25A/B/C installed semi-sieve at the end of the gravity separator to clean out the big and small impurity from the grain and seeds after the cleaning of the Gravity table, effectively improve the purity.

5XFZ-25S air screen cleaner technical parameter:


---
---