5XFS-3FA Seed Cleaner
Product Detail
Production Case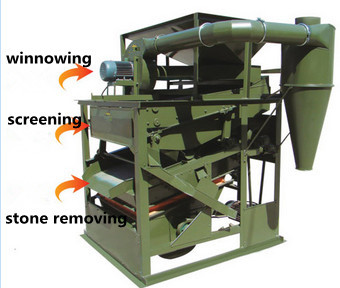 5XFS-3FA Seed Cleaner with multi-function cleaning ways introduction:
1. 5XFS-3 Series Multi Function Seed Cleaner is a new type especially for small type of Seed Company, grain wholesale market, small roasted and nuts factory, grain processing factory, and small grain store factory.
2. it is to clean light impurity, large and small impurity from seed, and remove stone from the seed.
Feature: multi-function, low investment, low energy consumption.

5XFS-3FA Seed Cleaner Specification:
Sieve Screen(mm): 800×1200
Capacity(kg/h):3000(taking wheat as the standard)
Power(kW):4.1
Weight(kg):500
Overall Size(mm):1700×1400×1800

---
---