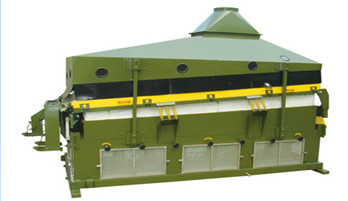 Gravity Separator Introduction:
1, This blowing type gravity separator adopts gravity segregation caused by the dual effect of air force and vibration friction.
2,By adjusting wind pressure, amplitude and other parameter,material with large gravity will sink down and move from bottom to up under stress of vibration friction; material with small gravity moves from up to bottom.
3,This machine is used to remove blighted seed, budding seed, damaged seed (by insect), rotten seed, deteriorated seed, moldy seed, non-viable seed, seed with black powder sick and seed with shell from wheat, corn, paddy, sunflower seed, melon seed, pulse etc.
4, At the same time, there is an angle on the right of vibration surface; the stone can be separated.

Gravity Separator Technical Parameter: