5CX-5 Magnetic Clod Separator
Product Detail
Production Case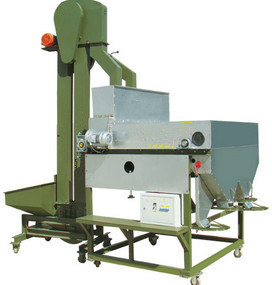 Magnetic Clod Separator Introduction:
1. 5CX-5 high-performance magnetic clod separator can separate clod from grain.
2. The magnetic clod separator depends on the different throwing distance caused by different magnetic field attraction.

Magnetic Clod Separator Advantages:
1. made of 304 stainless steel, tight magnetic sealing, less magnetic flux leakage.
2. the magnetic field strength of magnetic roller is greater than 14,000 gauss. The magnetic field strength, large magnetic, good magnetic effect
3. the wide magnetic surface design, the width of magnetic election surface is 1300m, to ensure that the processing capacity and improve the magnetic effect.
4. the original design of bulk grain equipment, bulk grain uniform, no maintenance, greatly reducing the losses caused by the vibration feeder damage.

Magnetic Clod Separator Technical Parameter:


---
Previous:
QSC-7 Blowing Type De-stoner Machine
---