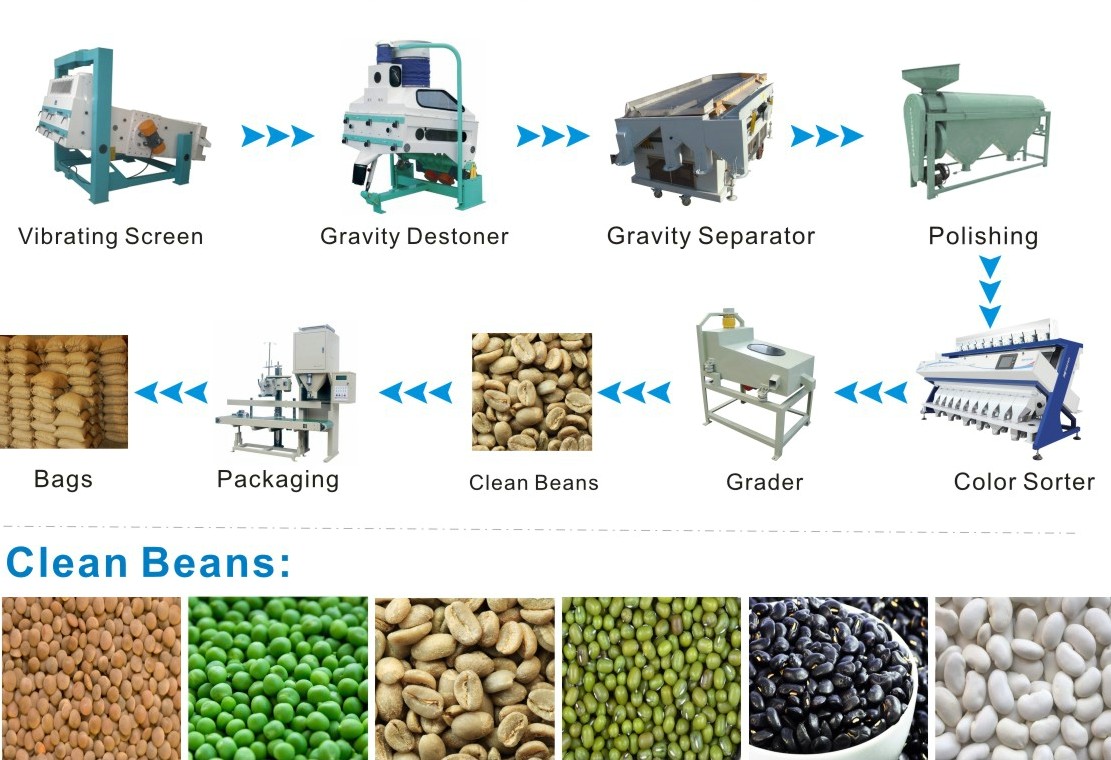 Coffee Beans Cleaning Line Technology Introduction:

Air screen cleaner: dust, leaf, light impurity, and then remove large, small impurity and small particles.

Destoner: remove stones

Gravity separator: blighted seed, budding seed, damaged seed (by insect), rotten seed, deteriorated seed, moldy seed, non-viable seed, seed with black powder sick

Magnetic machine: clod separate clod from grain.

Polishing machine: remove the dust in all kinds of beans' surfact and polishing the machinerial.

Color Sortor: Remove different color seeds.

Grading machine: It is to separate the beans to different size: big, medium and small size.

Packing machine: manual packing machine, save man power.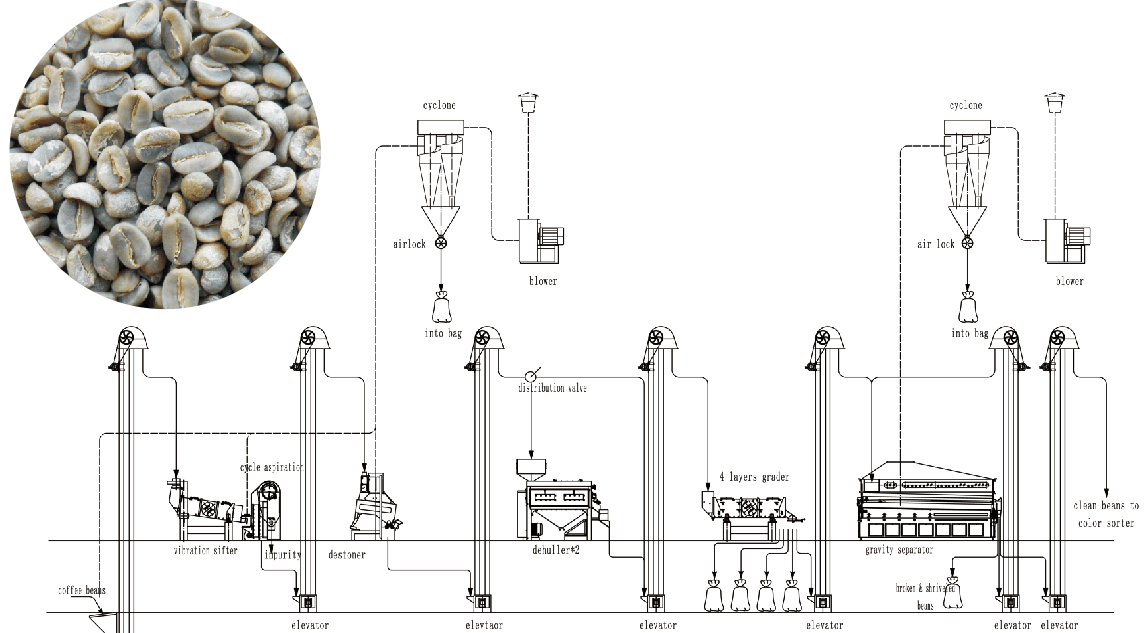 Air Screen Cleaner- Destoner -- Gravity Separator -- Magnetic Machine --Polishing Machine --- Color-Sorting -- Grading Machine -- Packing Machine.
ማጽዳት/መልቀም→ ቆዳውንና ገለባውን መለየት→መቦረሽ/ማለስለስ→በመጠን መከፋፈል→በክብደት መለየት→በቀለም መለየት→ራሱ በራሱ በከረጢት መመዘንና ማሸግ/መስፋት
How Our Coffee Beans Cleaning Line Works:
For washed coffee beans, no need in dehulling and polishing. If the capacity is large, like 10 tons per hour or even more, we recommend buyers to set up a suitable silo. The first step is cleaning, which usually adopts two machines: vibration separator and destoner. Big and small size impurity will be sorted out from the vibration separator. The stones will be sorted out through the destoner. The working principle is utilizing the gravity difference of the material.
To reach export standard, we need grading (with sieves inside) according to the beans' size. Usually we classify them into 4 grades. The best beans will come from the middle 2 layers, then will be processed in the gravity separator. This high quality machine will sort out the shriveled or insect bitten kernels. Then, different color beans will be rejected in this color sorter machine. Next, some buyers add the manual checking belt. The last step is weighing and packing.
For dry coffee beans, besides of what listed above, we add dehuller and polishing machine, which will form another complete processing plant.
Coffee Bean Cleaning Line Yield:
Finished product: fine coffee beans
Fine beans proportion: 90-96%
Broken kernel proportion: 2-3%
Impurity content: 2-7%
Sucessful Projects: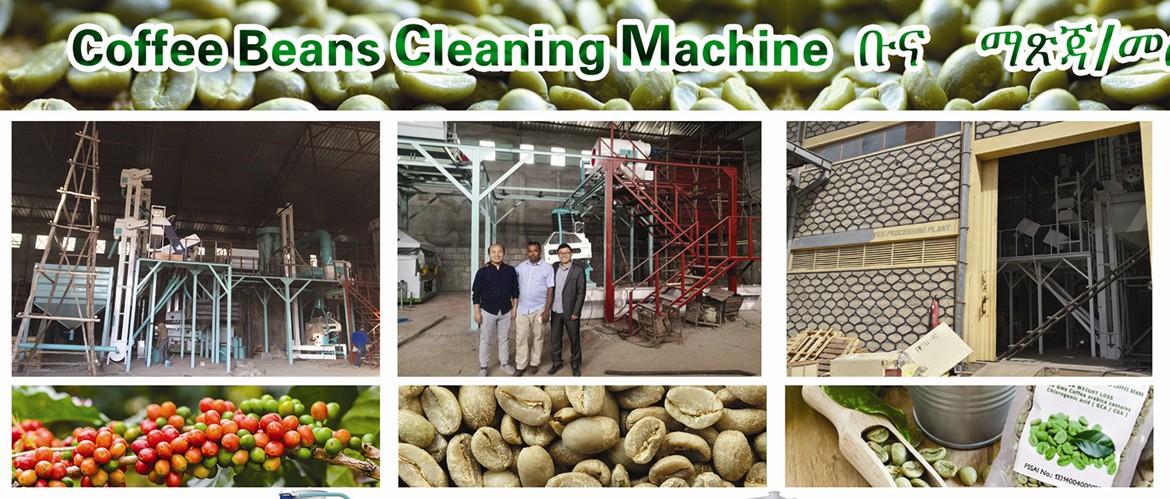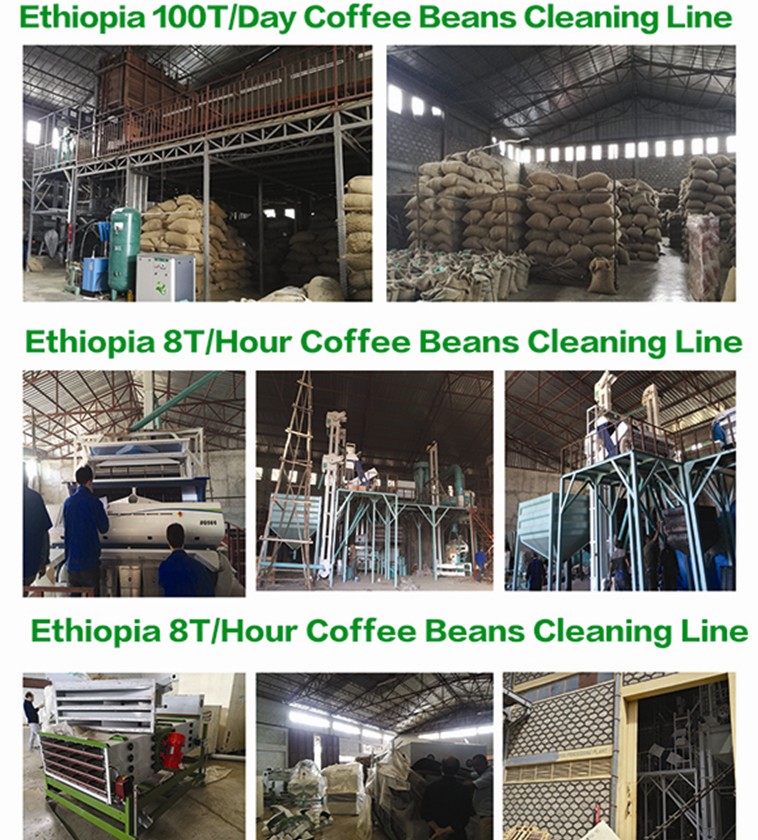 How the Ethiopian Customers Evaluated Us:
-By Whitney on July 16, 2017
This is a really nice line very easy to operate and it keeps everything very cool I would definitely recommend to friends!
- By Bezaleel on June 4, 2017
Great machinery for the coffee bean cleaning!
Makes perfect coffee beans directly for packing.
-By Elias on Aril 22, 2017
Works great could not be happier.
-By M. Chai on April 5, 2017
It always works like you would expect.
-By Roshen on January 15, 2017
I always wanted to try coffee beans cleaning machinery. It was very easy to use.
-By Deborah Spivey on November 22, 2016
I was convinced it would work great and at a reasonable price. I liked the idea of the the simple design.
-By Alex on September 26, 2016
Does what it's supposed to.
-By Wendy Garcia on August 11, 2016
If you want a simple coffee bean cleaning machine without all the bells and whistles, one that simply justs makes great coffee beans, this is the one for you! You plug it in and turn it on, that's it!
Video: